Tristar's WinServe Plus software program offers a complete solution to your to all of your service of process business needs, including Process, Messenger and Court Filing work.  Winserve is a complete solution for your Attorney Service business.  Winserve is your choice for Proof or Affidavit generation, invoicing, automatic email-notification and more.  Take a look at our one of a kind dispatch board!  We are the technology leader in the Attorney Services industry, publishing system updates each month to stay at the cutting edge of technology.


Tristar's WinCopy program offers complete document production and records retrieval, along with a built in task scheduler and automated billing.   WinCopy handles Deposition Subpoenas, Worker's Compensation Subpoenas, Medical Authorizations and more. WinCopy will generate all of the paperwork necessary for you to serve and manage your record retrieval caseload.  Wincopy is not only robust, but extremely flexible.  Discover why WinCopy is the best copy service software in the industry.

The CaseGator software program offers a variety of unique capabilities to compliment your process serving needs as a private investigator. This solution produces effortless published reports utilizing your customized data fields and relevant attachments that post directly to the web portal with secured access.  Quickly add Parties and various report elements and see how quickly we can help you generate beautiful detailed Investigations invoices and reports.


Taking advantage of the latest in mobile trends and technology Tristar Software's new Winservemobile app keeps your servers and messengers in the field, making money. This allows your clients to be kept up to speed with the progress of the jobs in real time, allowing you less time on the phone and more time to do what is important to your business. We offer native apps for both Android and iOS with off-line capabilities, GPS capture and routing navigation capabilities.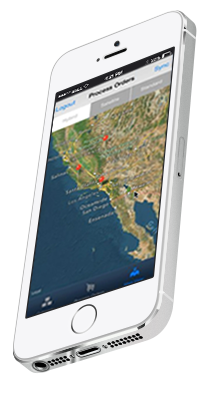 Process, messenger, and court jobs on the phone
Get your employees out in the field where they are making you money, not in the office at the computer. From the phone or tablet they can get new jobs, update existing jobs, and close jobs out. Spread one attempt or serve across multiple jobs at the same address and get up to the minute status so your clients know what is going on in real time.

Map view of all jobs
Want to know what jobs are near you now? Need directions to your next job? Look at all of your assigned work in a convenient map view. Click on a map icon to get details about the job.  Allow your smartphones navigation to supply turn by turn directions with a click or use our route optimization to plan out your daily process serves.

Upload photos with GPS info — DCA COMPLIANT 
The phone can capture photos with GPS information embedded into the photo file. You can also get GPS information without a photo if taking a photo is not appropriate. Capture an audio recording of the service in states where applicable.
Tristar Software has an office on the West Coast in California and a Satellite office in Florida. We are here for customer support 5 days a week from 6am to 5pm PST. Therefore no matter if your calling from the left coast or the right coast, we are here to assist you when you need it.
Tristar Software stands head and shoulders above the competition when it comes to customization. Tristar Software is a custom design company. We have been in the attorney services industry for 30 years and our experience can work for you. If you need the software to work around your company, then we can do that.
Whether you're working from the office or the field, we have you covered. Our mobile app technology allows your servers in the field to update diligence, records final status, upload photos with GPS, and record audio. With our attorney service software apps your guys can status Process, Court Services, or Delivery (courier) jobs from the field.
Do your customers want to place orders directly online? Do your customers want to check status online without having to call you? How about downloading proofs and seeing GPS photos of postings right through your web site. Do you have remote process servers who need to download workorders or status work or Salesman who need to manage their accounts? Would you like all of that in a beautiful, web portal which can be customized to fit your company's look and feel? All of this is possible with our web portal.
From Process Service and Records Retrieval to a full featured accounting module, Tristar Software's system is all you need to manage your growing attorney services company. With our per seat license, you can start when you are small and expand the product as your company grows.
Our product is packed with features that you will learn as you go, however it is simple enough to get started with just a little training. Part of our ongoing support is to provide you and your company with training via online meetings as you need them. We are here when you are working, so anytime there is a support question, we will have an answer.