Version 880 Release Notes
We have made quite a few improvements to the integrated AR Module including the PaySimple Integration as well as UI upgrades!
Check out what we have been busy developing for you…
—————————————–
We have upgraded the AR module to cutting edge current C# code for a better experience, increased stability and more robust functionality. This includes a snazzy Breakdown Summary report with an attached deposit slip.  Our new and improved CASH JOURNAL has the same features you are accustomed to, with the added ability to show payment types of four (4) possible values: Check, Cash, Credit Card or eCheck.
After the report totals, you will find the DEPOSIT SLIP at the end of the summary, which includes a listing of all check numbers and.or cash payments with amounts, subtotal and totals!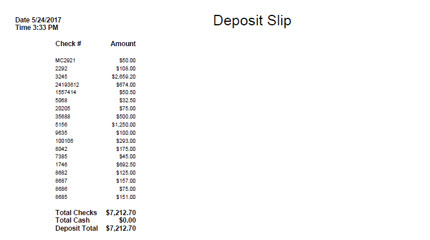 An optional new AR Dashboard with Customer Notes, call-to-action PDF/XLS features, as well as AR Value, Apply Cash and Collections links.
**Please contact Sales at sales@tristarsoftware.com for more information, to schedule a demo and to inquire on pricing for this new dashboard.**
Improved UI on QR/BarCode Batch Loading feature.  You are now able to override the default PDF Type Title to batch load attachments as well as make the PDF's available for your clients to view on the website from this vantage point.  You are also able to set the Milestone upon batch loading your PDF attachments.
PaySimple Integration is also now available with the ability to store clients encrypted credit card information and then process them in the AR Module.
New & Improved WinCopy Single Click Display Window