Version 877 Release Notes
Maintenance Menu clean up & reorganization has been completed.   Go to Maintain Tab to check it out! All options have been alphabetized as well for easier search
New Vendor Invoice logic has been added to the PreBill feature. From PreBill, select Vendor Invoice button. See below screen shots…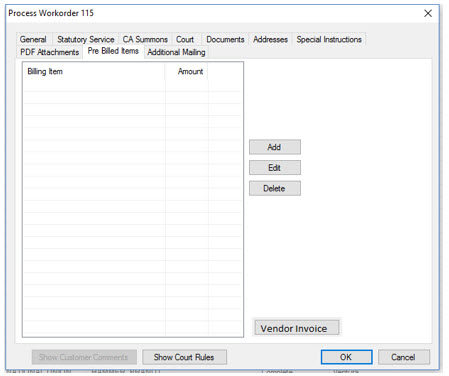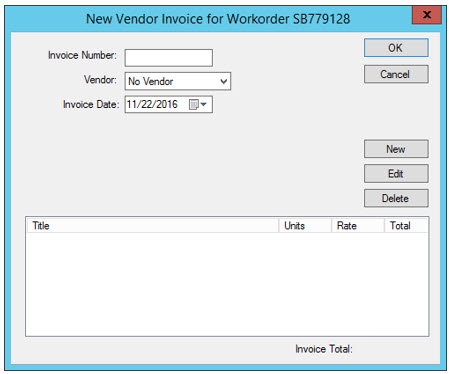 ————–>>
Improved Affiliate Proof integration feature.  When your affiliate customers are identified as Affiliate in their customer profile, the program will automatically Request an Affiliate Proof once the order has been entered, allowing the Attorney of Record field to activate.
Client Web Portal enhancement — Web Greeting Infrastructure! Allows maintenance of a web greeting message to display on your custom branded client web portal. Go to Maintain>>SetUp >>Web Greeting Message and create your custom message that displays across the Status Online home page.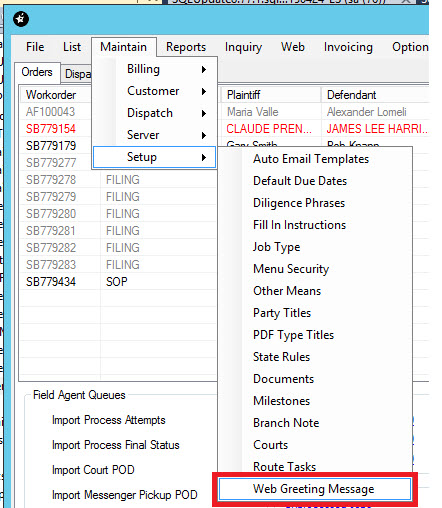 Maintenance results in a fancy web greeting on the web portal for your clients to see, as shown in example below…. WOW!!
New ability to Preview your forms in PDF on your screen before printing to paper! To set this feature up, you will need to go to Options Tab >> Print PDF and check the box to turn it on. This means that anytime you select to print a document (whether it be Print WorkOrder, Print Proof of Service, Print Proof of Delivery, Print Single Invoice, or Print WRITs) you will first see a PDF preview of that document.  *You must have Adobe installed on your machine in order for this feature to function properly*
Invoicing Performance Boost  Minimized number of clicks for existing functions to streamline the invoicing process.  Go to Rate WorkOrder
Messenger/Delivery Job Types now includes a DOCUMENTS tab with a document list selector