Version 876 Release Notes
ePouch Phase II   The ability to send information back upstream to the company that originated the order.  Once the pouched job has been completed, the original company can import the POD, invoice information and attachments!  Specifically, when a diligence is recorded by company B, the information is sent back up to the ePouch for retrieval by company A.   Images, if they are marked as available on the web, are sent back up too.  There is nothing that the user needs to do in order to send, it just happens when the diligence is recorded. When company B then creates a proof, signs and attaches it, and then invoices the job the invoice, proof, and all attachments that are available on web are sent back to the ePouch in a similar fashion.  This is all done silently in the background on recording the invoice.
QR Code Loading and Attachments   Now, when an attachment is loaded, WS+ still identifies the QR Code and triggers an email to be sent to the client.  However, whereas before the auto email directed your client to your client web portal, that same auto email now has a direct link to each attachment RIGHT IN THE EMAIL!
Ability to Dispatch Multiple Attachments   You are now able to dispatch more than 1 PDF attachment when assigning a job to a server.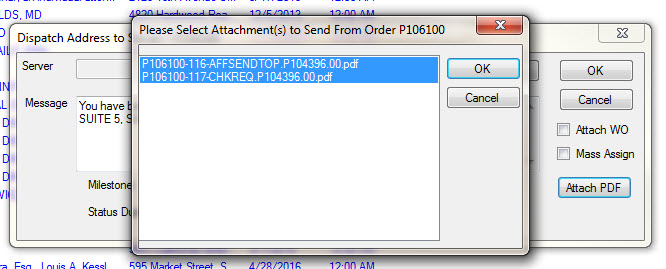 Export II Excel Report List now in Alphabetical Order! Yes, we know this was important for your organizational tendencies.
We have created new Accounting Reports, including a Profit Margin Net Gain Report
Major Performance Enhancements to speed up your WinServe+ experience
We have added the ability to Import Multiple Field Agent Jobs Synced from your Field Agent Queues from your servers our in the field.
We have added a field "Their File #" to the Inquiry section when searching for POD's.