ePouch Phase II
This major ePouch enhancement brings full circle two-way data sharing between Tristar users, as well as batch importing, PDF Attachments and added epouch capability on Court jobs too!
In general terms, we added the ability to send information back upstream to the company that originated the order (A) from the company that the job was sent out to (B).  Recall before in ePouch Phase I, when a job was ePouched out, it left Company A's WS+ system and transfers to Company B.  Done.
Now, during the ePouch process, when a diligence is recorded by Company B, the information is sent back up to the ePouch for retrieval by company A.  Images, if they are marked as available on the web, are sent back up too.  This process is automated and triggered when the diligence is recorded. When Company B then creates a proof, signs and attaches it, and then invoices the job,  that same invoice, proof, and all attachments that are available on the web are sent back up into to the ePouch in a similar fashion.  This is all done silently in the background triggered by the generation of the invoice.
Let's talk workflow in Phase II –>>
Company B enters their diligence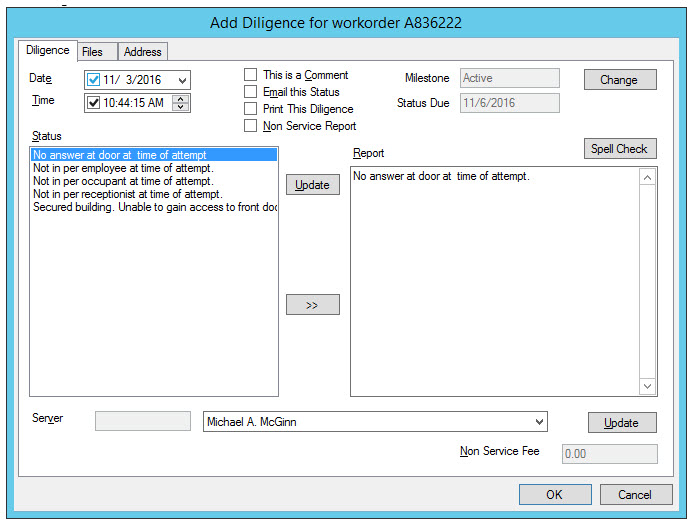 Company A (The original sending company) click on ePouch tab>>Import Diligence to import Company B diligence.  Right click on the highlighted to be imported and add a server if necessary.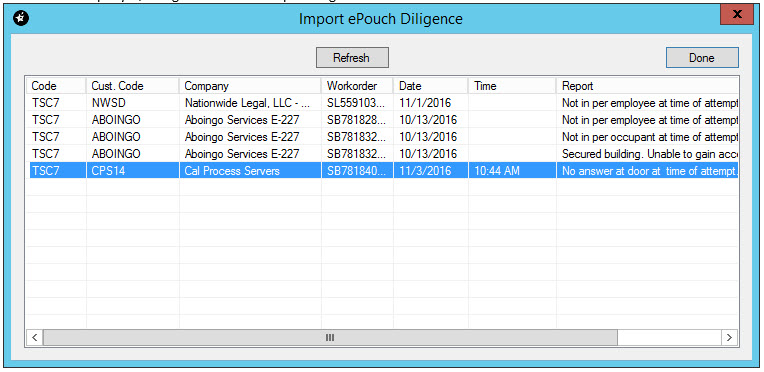 Company B will initiate the Proof of Service AND Invoice the  job *Rate Workorder
Company A clicks on ePouch tab>>Import Completed Packages.  Right click the job to import and review the Proof.  *Attachments are also imported here!

Company (A) Virtually High Fives Company (B) and all is well in the world!